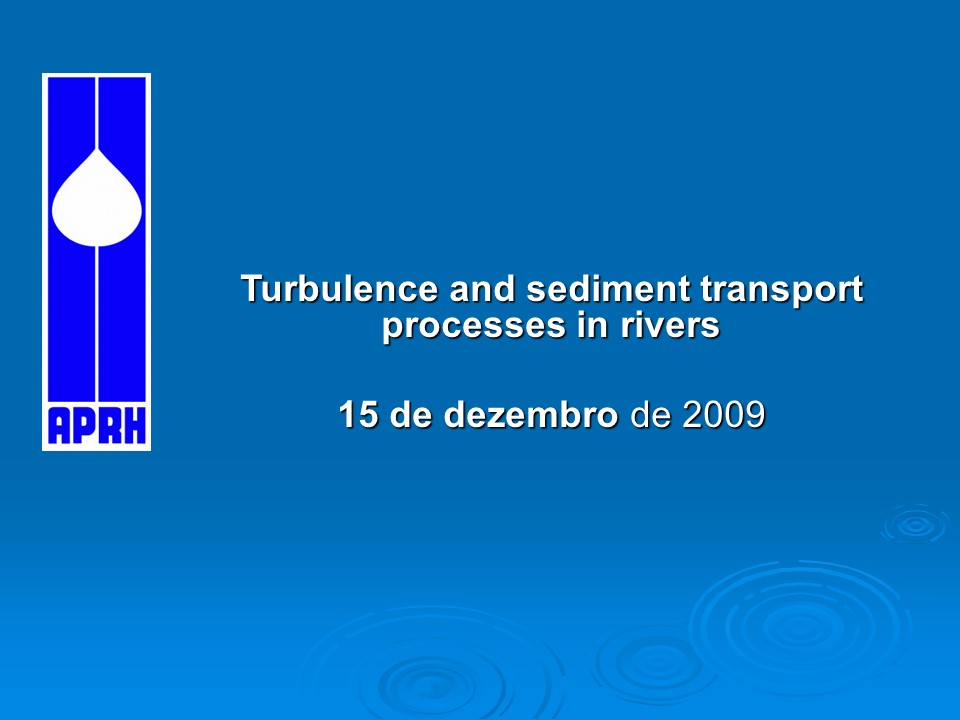 Turbulence and sediment transport processes in rivers
Turbulência e transporte sólido em rios
Prof. Subhasish Dey (IIT Kharagpur, Índia)
Terça-Feira, 15 de Dezembro de 2009 14:00 – 18:30 Instituto Superior Técnico, Pavilhão de Engenharia Civil, sala V141 (1º piso)
A entrada é gratuita.
Por motivos de organização, solicita-se aos interessados que informem via e-mail o secretariado da APRH (aprh@aprh.pt) até 11 de Dezembro de 2009. Salvo impedimento técnico, o curso será transmitido por vídeo-conferência para a Faculdade de Engenharia da Universidade do Porto.
Âmbito e nota biográfica
Estrutura do curso
Âmbito e nota biográfica
A Comissão Especializada em Hidráulica Fluvial da APRH apresenta o curso"Turbulence and sediment transport processes in rivers", leccionado pelo Prof. Subhasish Dey, Professor Catedrático de Hidráulica e Recursos Hídricos no
Departamento de Engenharia Civil do Indian Institute of Technology, Kharagpur, Bengala Ocidental. Nos últimos 20 anos, Subhasish Dey, tem desenvolvido investigação em Hidrodinâmica Aplicada a Processos Fluviais, contando com mais de 130 publicações em temas como a modelação matemática de escoamentos fluviais, a mecânica do transporte sólido, as erosão localizadas junto de estruturas hidráulicas, pilares e encontros de pontes e a turbulência organizada em escoamentos com superfície livre.
Estrutura do curso